Health Facts
Back pain is often caused by obesity
Most people know that obesity contributes to the development of various diseases. However, did you know that obesity is a contributing factor to back pain? It is true. Being overweight or obese can significantly contribute to  osteoporosis, osteoarthritis, rheumatoid arthritis, degenerative disc disease, spinal stenosis, and spondylolisthesis.
Timothy Davis, M.D., Director of Physiatry
Physiatry is the study of physical medicine and rehabilitation. Specializing in non-surgical care for neck and back disorders, Timothy Davis, M.D. also performs and interprets electrodiagnostic studies and is trained in interventional pain management techniques, such as epidural steroid and facet injections at The Spine Institute .
Curriculum Vitae (pdf format)




(what is a pdf?)
Dr. Davis believes in a multidisciplinary approach to spinal disorders.  He specializes in minimally invasive intradiscal treatments for disc degeneration, electrodiagnostics, and neuromodulation for chronic nerve pain.  He is also considered and expert in the field of intraoperative neruophysiological monitoring
After earning his medical degree from the University of Missouri-Kansas City School of Medicine, Dr. Davis completed his surgical internship at Ochsner Medical Foundation in New Orleans, Louisiana. He then completed his residency in physical medicine and rehabilitation at the University of California, Los Angeles Medical Center and at the West Los Angeles Veteran's Hospital. During his residency, he was a member of the spinal cord injury team at Rancho Los Amigos Hospital, where he received extensive training in the management of acute and chronic spinal injuries.
Dr Davis is currently involved in research using intradiscal biologic injections to repair damaged discs in the spine.
Latest news
Visit our
media library
for access to all of our news videos.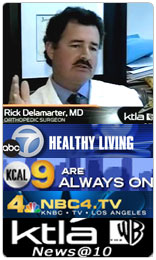 The Spine Institute is often in the news pioneering new treatments to help the reported 34 million Americans 18 years and older who suffer lower back pain, and another 9 million who suffer neck pain. Watch the news coverage
here
.